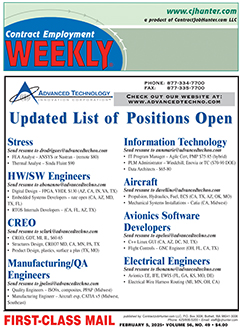 Read the current issue of Contract Employment Weekly Magazine!
A Subscription allows access to our full array of Services.
A Guest Membership is free of charge.
Are you interested and qualified for contract jobs in various engineering disciplines (aerospace/aircraft, nuclear, energy) or IT (software/hardware, programming)? We offer one year paid subscriptions starting at $25 which include full subscriber services or you can check us out with a free 90 day guest membership. With each you can post your resume online and search our high tech jobs database.

Recruiters….are you looking for qualified engineers/designers/drafters or IT professionals? Email or call us for more information.